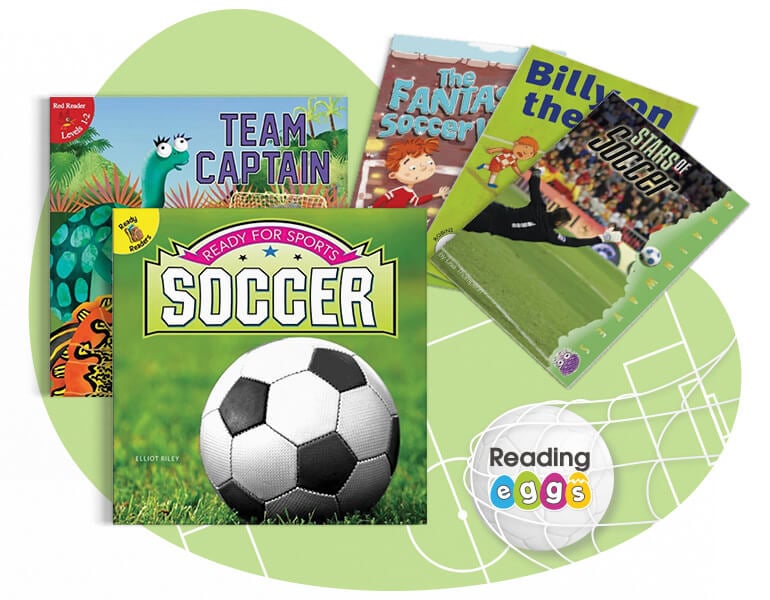 Football is a popular and well-loved sport around the world. It's also known as soccer to many, depending on where you're from.
For the purpose of this article, we'll be referring to it as soccer.
If you're an educator and have students who are fans of the game, they'll love these books from the Reading Eggs Library!
From real-world soccer players to funny and whimsical stories, here are 15 soccer-themed books in the Library to get your students kicking with excitement.
For Reception/Kindergarten

Billy on the Ball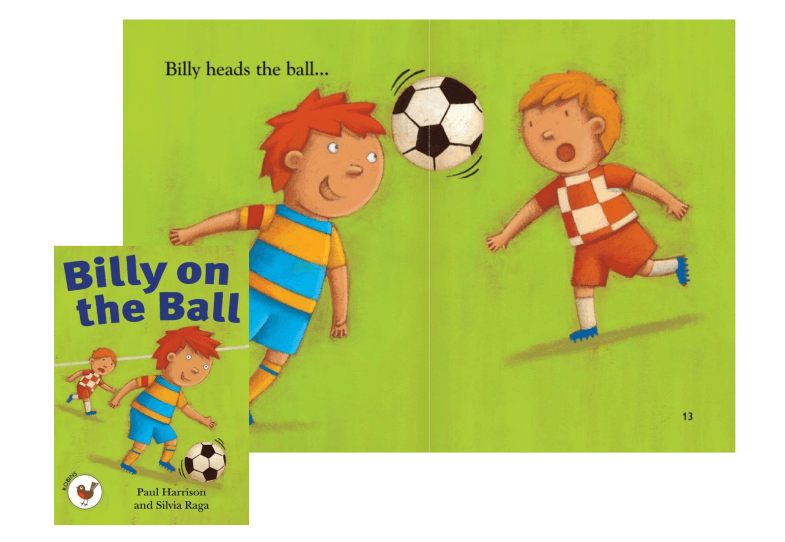 It's Cup final day. Follow Billy as he joins a soccer team. He runs, he heads, and he gets fouled. Will he be able to score for his team?
Kick, Pass, SCORE!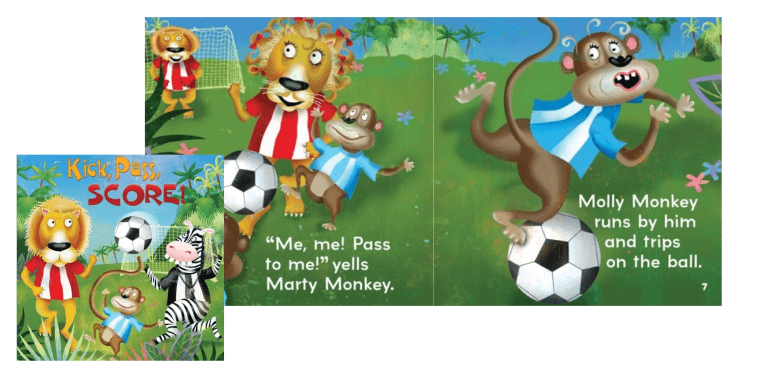 Featuring pages of vibrant illustrations with supporting vocabulary, Kick, Pass, SCORE! introduces young readers to soccer and the benefits of teamwork.
Ready for Sports: Soccer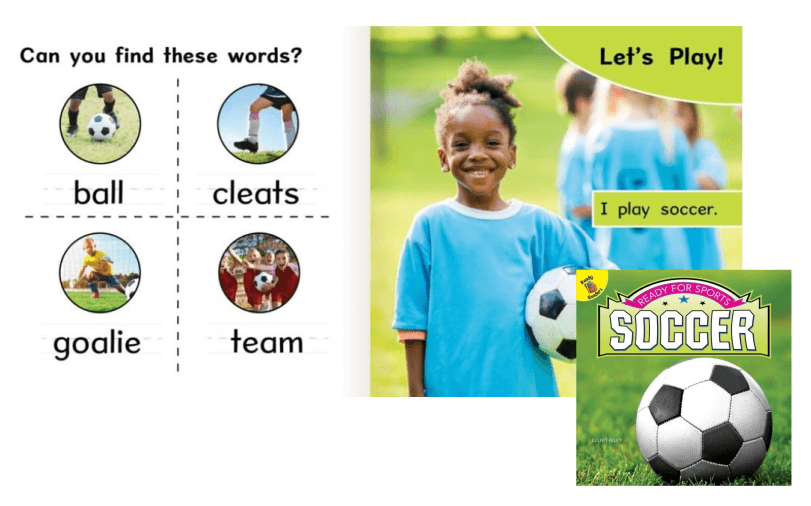 From uniforms to scoring, this non-fiction book introduces early readers to one of the most popular sports. The engaging text and pictures provide learners with the knowledge they need to be ready to play with confidence.
New feature! The Reading Journal
Your students are going to love their new Reading Journal in Reading Eggs! The Reading Journal in is an interactive book record that celebrates your students' reading journey and supports reading for pleasure.
It allows them to look back at the books they've read and reflect on how their reading has progressed, so they can feel proud of their efforts and reading journey.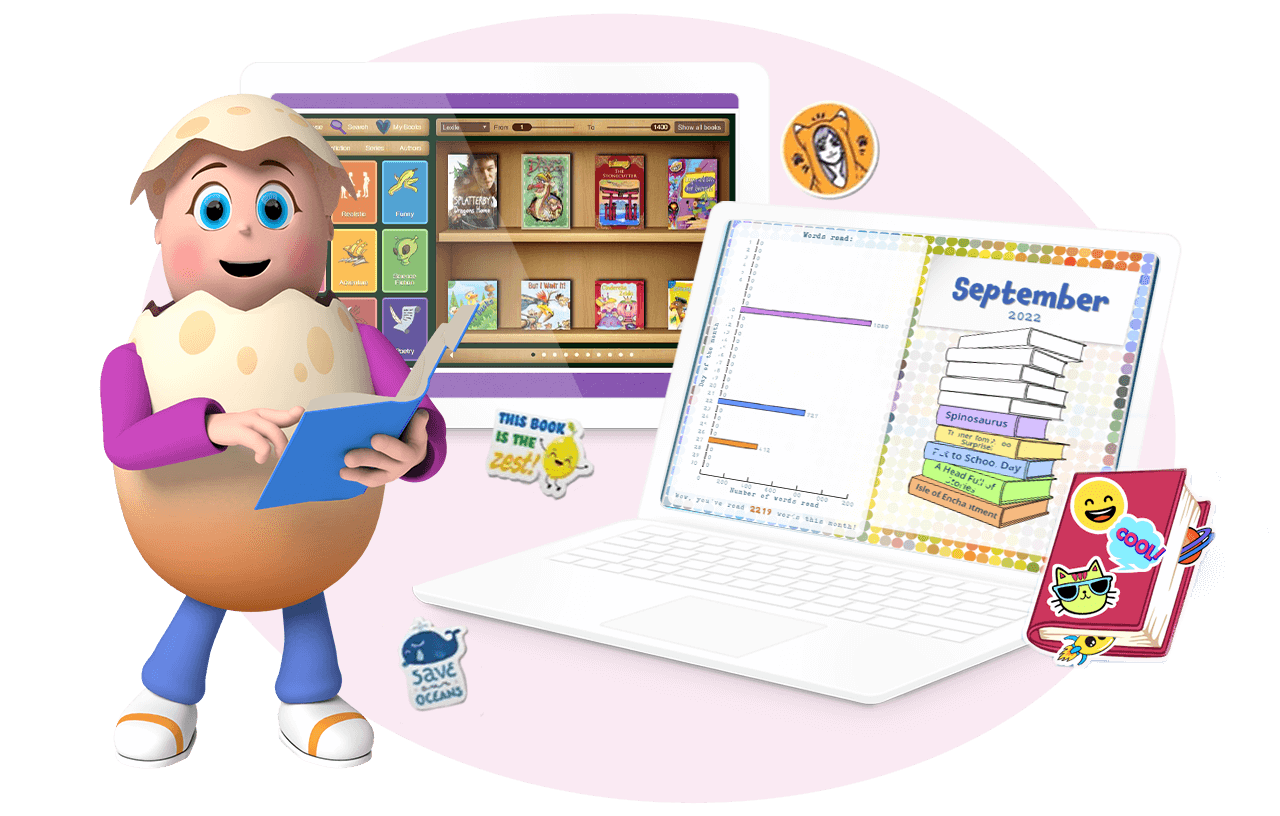 For Grade/Year 1 to 2 
Team Captain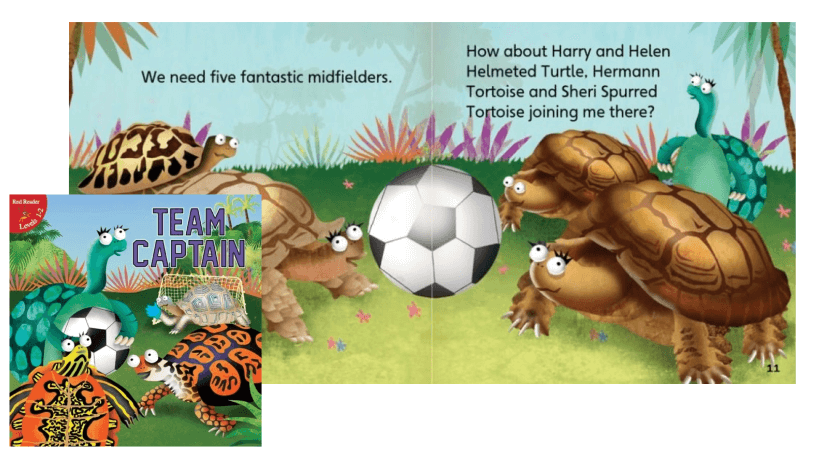 See how Tallulah Turtle lead his team, Tenacious Turtle to victory. The story talks about teamwork, and how it is easier to finish a task with success when everyone plays their part.
The Emperor's New Uniform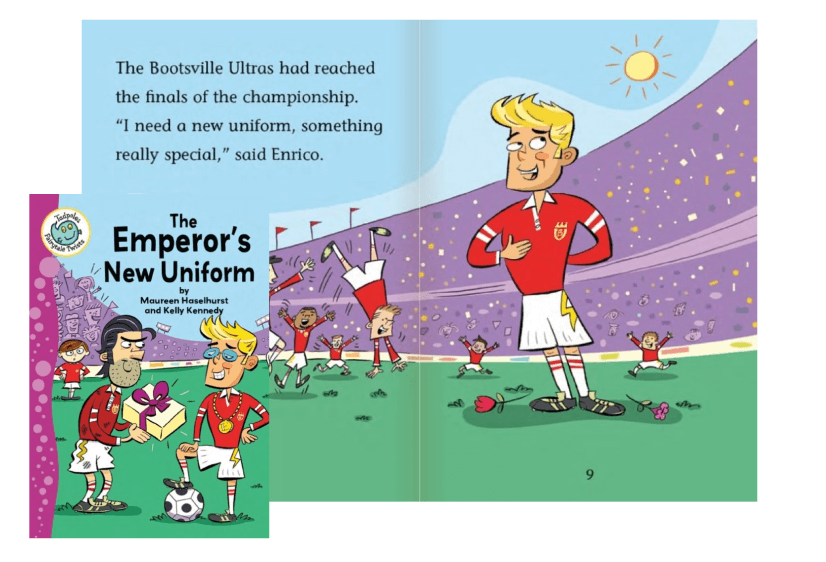 A classic fairy tale retold with a twist, meet Enrico Empery, the Emperor of soccer. When a big championship game approaches, his teammate, Freddie Foulo tells the Emperor about a very special soccer uniform that only the most amazing players can see.
Wolfpack Gang Is Outta Sight!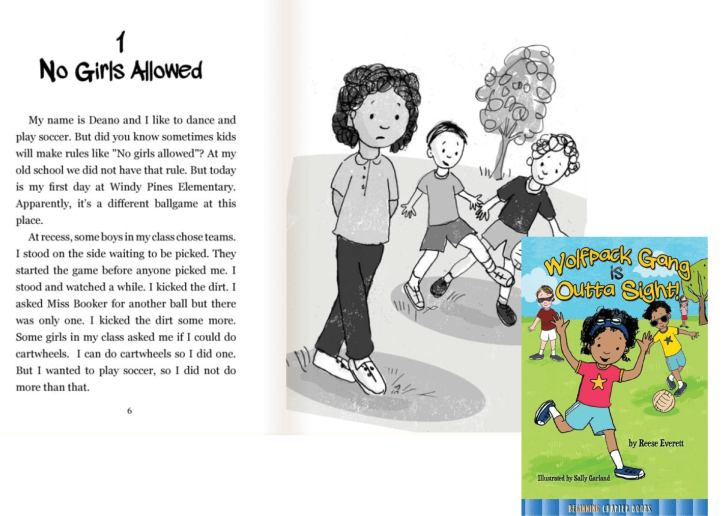 Deano was a star soccer player at her pervious school, but at her new school, the boys have a "No Girls Allowed" rule and she's not very happy about it. She later meets a new friend Jay, who is visually impaired. Deano later learns that Jay too, can play soccer despite his disability.
Wolfpack Gang is Outta Sight! creates a familiar setting that showcases a variety of social and emotional concepts associated with growing up.
Kickin' It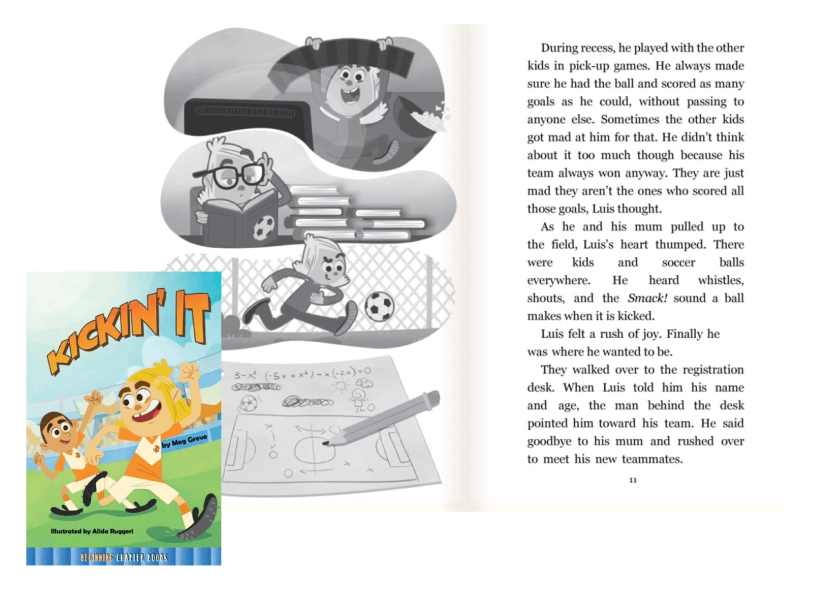 Luis knows he is the best soccer player at his school and can't wait to show his teammates and coach. But there is one problem – no one seems impressed with his skills! In fact, they seem like they don't want him on the field. Can Luis show his team that he's a team player before the big game?
Filled with simple sentences and illustrations, this book makes a perfect first chapter title for young readers.
The Fantasy Soccer Wall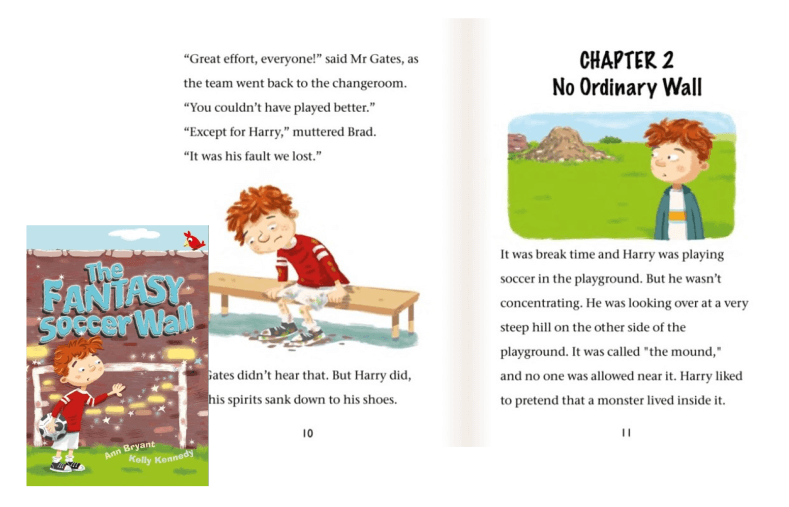 Harry really wants to win his team's soccer game and earn the respect of his teammate, Brad. However, things do not go as planned. One day, Harry discovers the wall at the end of the playground and its strange magical powers. Soon, every wish Harry makes comes true…
Soccer Stars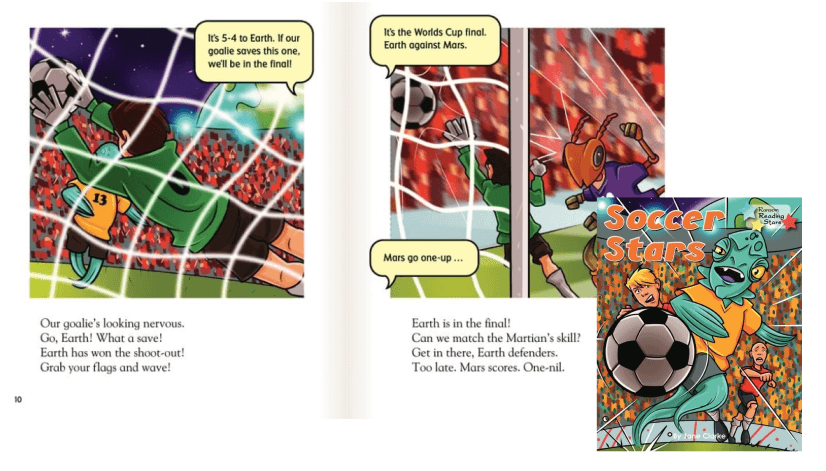 It's the first-ever World's Cup, and it's taking place on the Moon. Earth plays Mars in the final, but can Earth win the Cup? Soccer Stars is great for developing readers.
Create A Football or Soccer Book Collection For Your Class
Did you know you can create different Book Collections in Reading Eggs?
Bookmark the titles you want in the Teacher Library to create your own book collections and share them with your students. Read these books on the class screen as part of a lesson, or assign them to your students for home reading.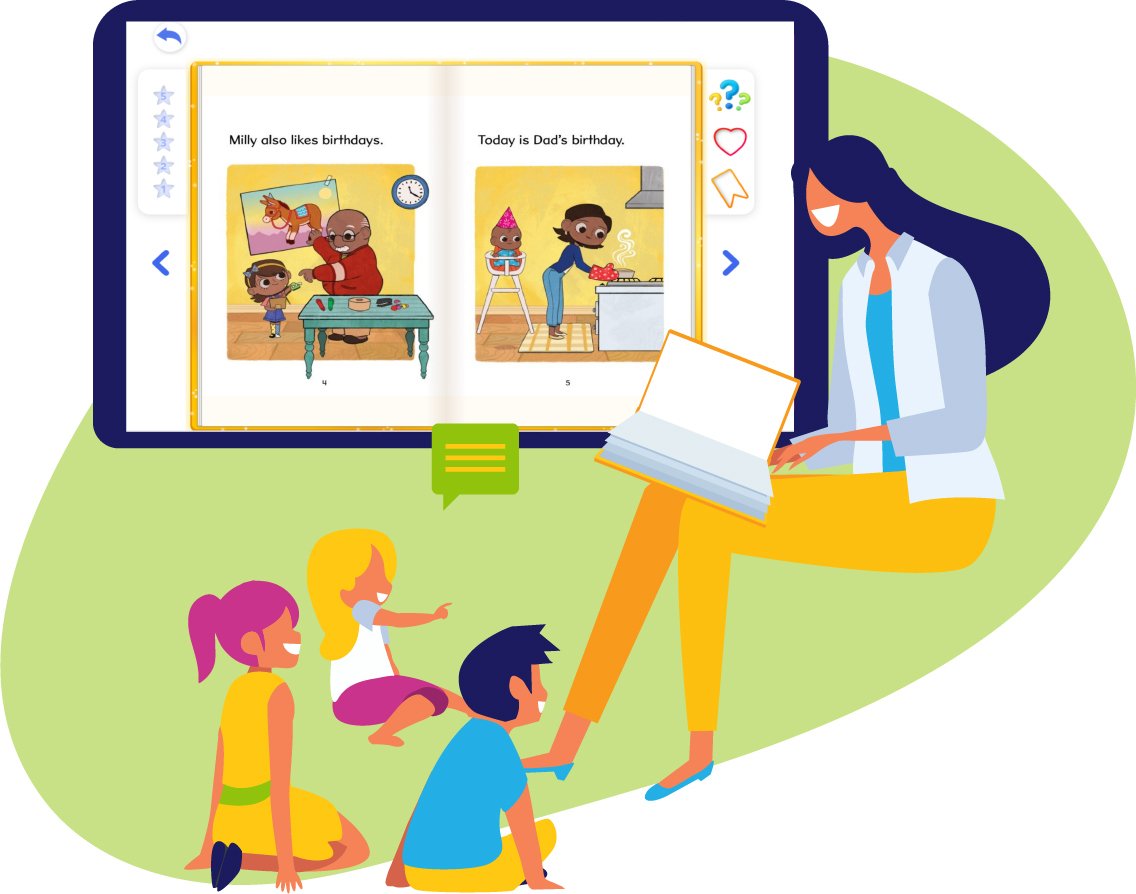 Create your own Book Collections in the Teacher Library today
For Grade/ Year 3 to 4
Football Friends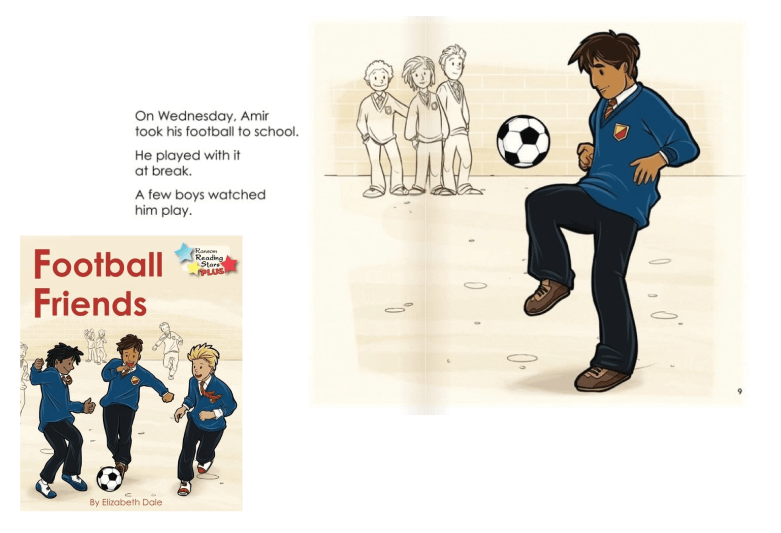 Football Friends follows the story of Amir, who moved to a new school. As he doesn't know anyone, Amir feels sad. But bringing his football into school changes everything.
Be the Best
Do you want to be a great football player? Or do you want to be the best? Let England keeper David James tell you how. Based on the world of professional football, Goal! is a series of non-fiction books with intriguing topics and facts about football.
The rest of the Goal! series (A Very Odd Sort of Job, From Africa to Wembley, How to be a Star in Midfield, How to be Star at the back, How to be a Star Keeper, Football Crazy) are also available in the Library.
Football Crazy: Poems, Raps and Beats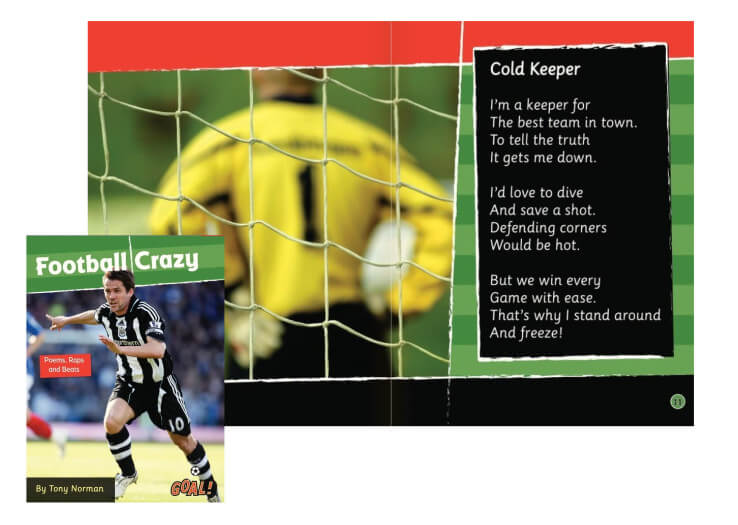 Looking for something different? This book contains a selection of poems, raps and beats about the game of football!
Soccer: Fun Sports for Fitness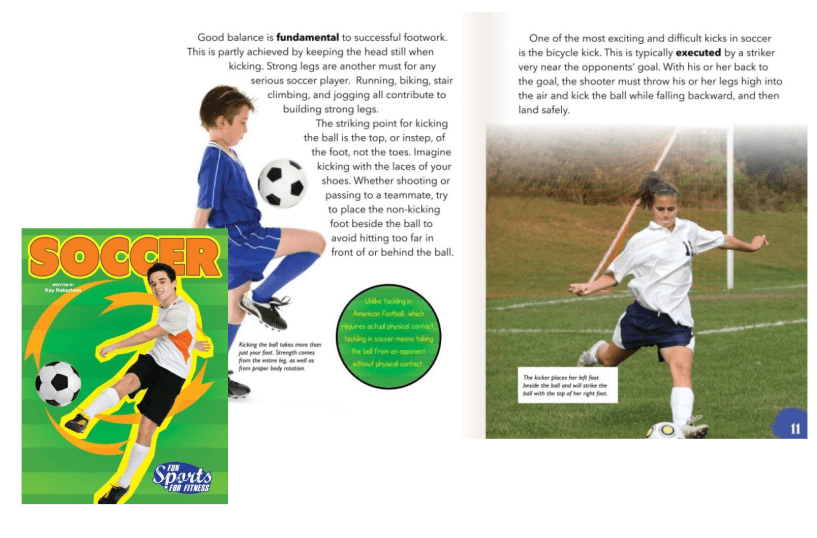 Soccer is one of the simplest sports in the world. It may be the reason why it's also the most popular sport in the world. This non-fiction book introduces students to the game of soccer, covering the basics of the game to different techniques of how to kick the ball.
Let Toby Lane Play Goalie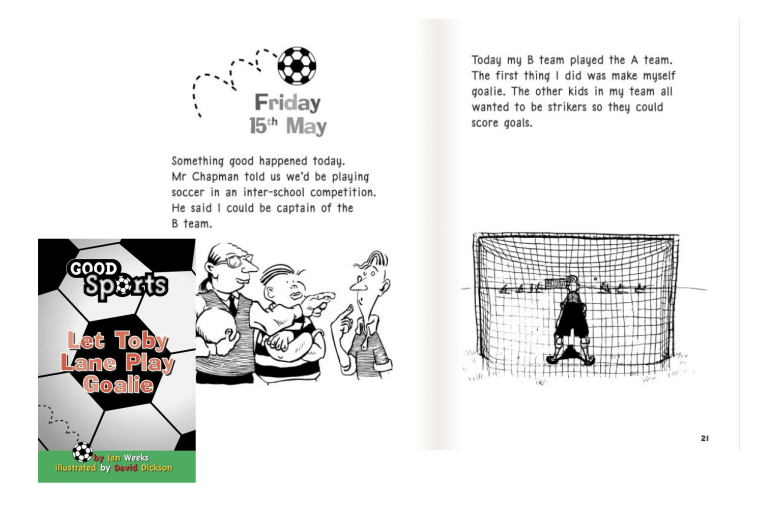 Toby wants to be a better soccer player and hopes the former professional goalie living in his town will give him some help. Readers are introduced to what it's like to be on the soccer field, while learning the basics of the game and the most important rule of all – to be a good sport.
Megan Rapinoe: Women in sports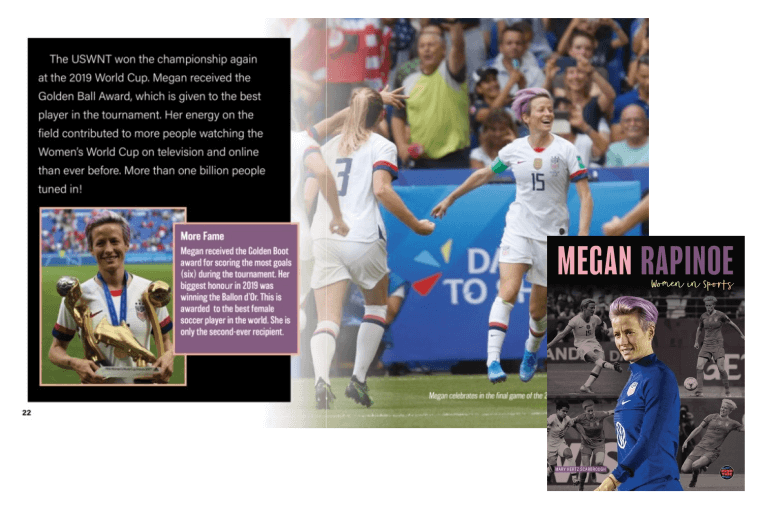 Learn about two-time Women's World Cup soccer champion and Olympic gold medalist Megan Rapinoe, as she shines on and off the field. Find out how she wows fans with her brilliant skills and uses her fame to promote causes she's passionate about.
Log in to Reading Eggs and start creating your very own soccer book collection today!
More Teaching Resources in Reading Eggs
From classic literature to biographies and nonfiction texts, the Library in Reading Eggs has a wide variety of online books available for ages 3 to 13.
Besides being able to create your very own book collection, you also get book notes with teaching ideas, worksheets, and 300 printable decodable books/readers.
A Reading Eggs subscription not only comes with an ever-expanding Library of 3,500+ digital books, it also gives you access to Reading Eggs, Reading Eggspress and Fast Phonics (a systematic synthetic phonics online program).

See your students' reading progress soar with Reading Eggs