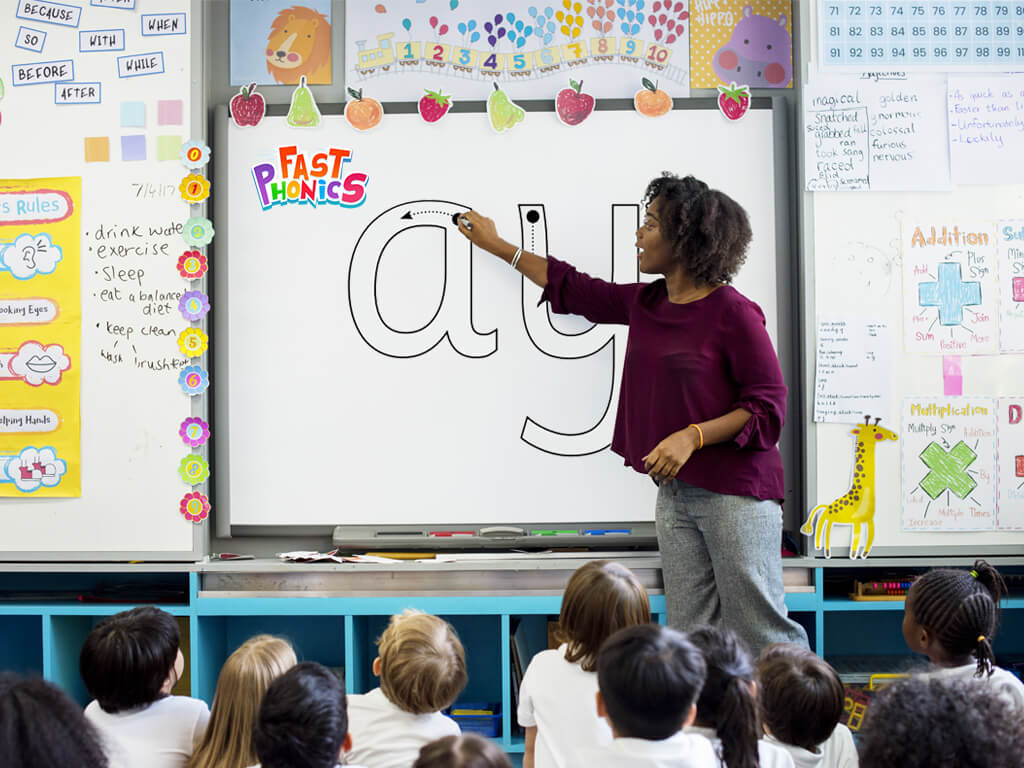 If your school is transiting to a synthetic phonics approach and you're new to this, it can be a little overwhelming.
Thankfully, Fast Phonics has all the resources to help you implement this in your classroom.
Brimming with phonic activities, lesson plans, decodable books, printables and more, it is the complete, evidence-based program guiding and engaging students systematically through learning letters and sounds.
So, what do you and your students get?
An Online Systematic Synthetic Phonics Program

Designed for emergent readers in pre-K through second year/grade, Fast Phonics also makes a great reading support for students who have core learning gaps in their phonics knowledge.
Immersed in a snow-capped Yeti world, students embark on a sequenced learning journey and work their way through 20 fun-filled levels known as Peaks.
There are up to 24 parts filled with exciting phonics games in each Peak, with each part focusing on a specific set of letters and sounds. When students reach the end of a Peak, they take a quiz and move on to the next one.

Did you know? Fast Phonics is part of the Reading Eggs suite.
Want to save time? Fast Phonics has
everything
you need to
teach systematic synthetic phonics
with ease, all in one place.
Plus, matching what your students learn and supporting your in-class teaching, each Peak comes with an extensive range of teacher resources:
A detailed weekly planner
Teaching slide deck
Reporting
Phonics flashcards
Handwriting sheets and phonics worksheets
Printable decodable readers
Quick links
Training videos
Read on to discover more about each of the super helpful resources in Fast Phonics.
1. A Step-by-step Weekly Planner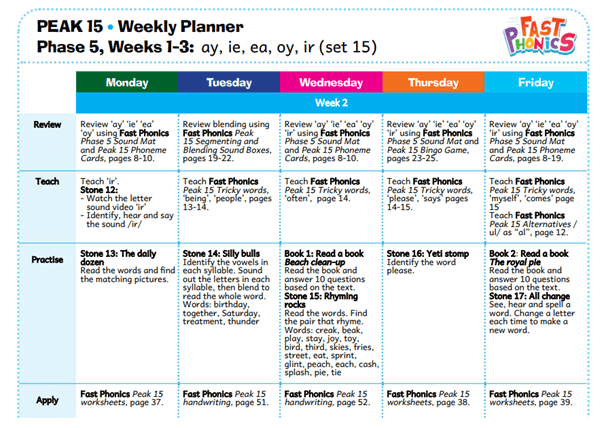 The Weekly Planner is your go-to lesson plan for teaching systematic synthetic phonics. It does all the planning for you, so you can have more time for other important tasks.
Learning objectives are set out in each weekly planner, so you know exactly what sounds and letters to teach. You can also find a list of high-frequency and new decodable words covered in that week.
You get a total of 41 weeks worth of detailed lessons for K to Year 1 level. All lesson planners are sequential and divided into days of the week, segmented into four key areas with detailed instructions – Review, Teach, Practise/Practice and Apply.
Phonics activities are included in each of these areas, so you have a clear idea of what to do.
2. Teaching Slide Decks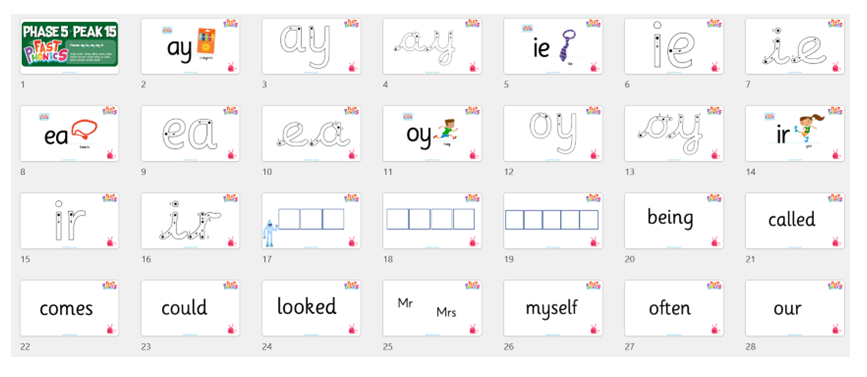 Reinforce your student's learning with these Teaching Slide Decks. Each deck corresponds to what is taught in Fast Phonics, complementing your in-class phonics instruction.
Present them on your interactive whiteboard or print them as teaching cards – it's your choice! These decks act as a great reminder to help students recall and consolidate new words learned.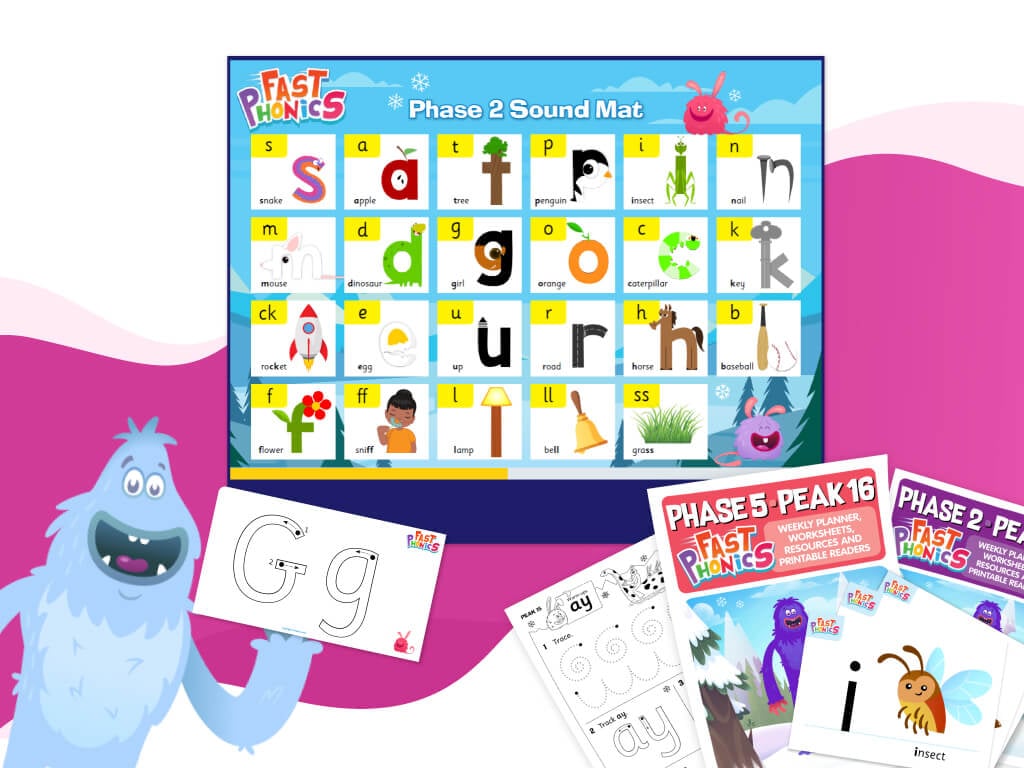 3. Reporting Data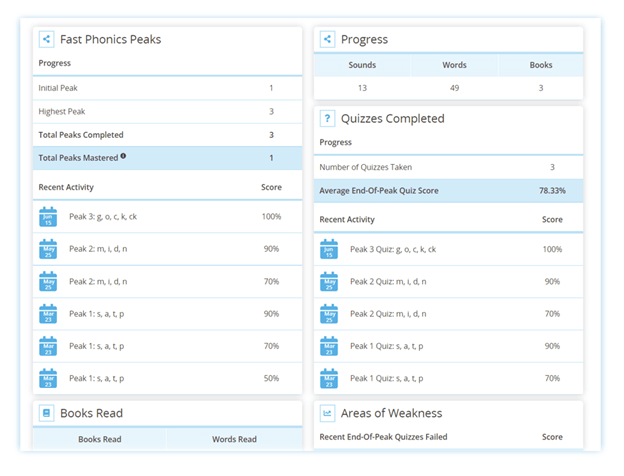 Fast Phonics makes it easy to plan, assign and review lessons. Once students have completed an activity or Peak, it shows you a snapshot of the date it was done, the phonemes learned and their progress. The report allows you to quickly identify any learning gaps, and plan for more activities to narrow the gap.
4. Flashcards and Sound Mats

Decorate your class with these beautifully illustrated sound mats or use the flashcards when teaching tricky words (there's even a script to help you out). The flashcards and sound mats correspond to the letters and sounds taught in each Peak.
5. Handwriting and Phonics Worksheets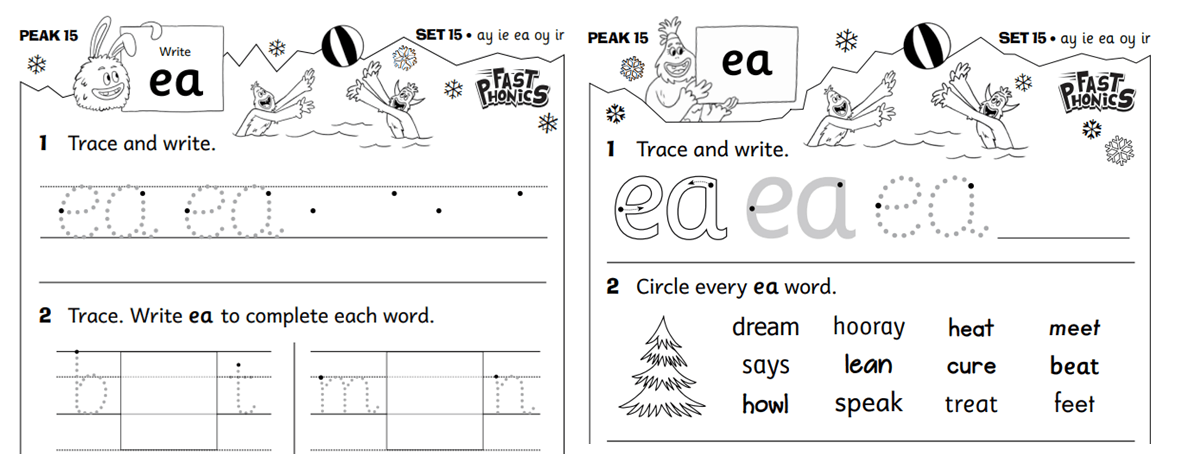 Time to prime those fingers for some fine motor skills work. Print out the handwriting and phonics worksheets to let students work on their writing skills.
6. Printable decodable readers / books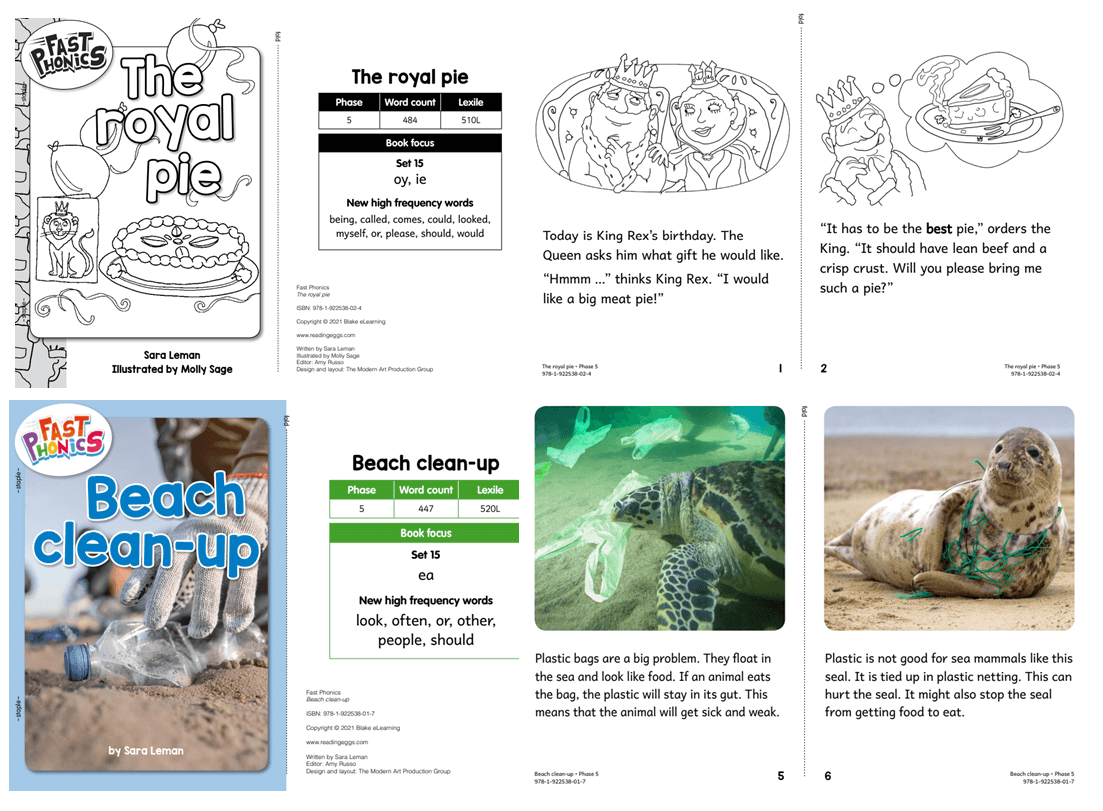 To inspire and nurture a love of reading, there are at least two to four printable decodable books at the end of every Weekly Teaching Guide. These books also match the words taught in each corresponding Fast Phonics Peak.
But wait, there's more! You also get access to 90 additional decodable readers in the Fast Phonics section of The Library.
7. Quick Links
The Quick Links section provides extra notes and guidance to help you plan the sequence of learning. Get access to documents such as:
Grapheme Phoneme Correspondence (GPC) Sequence
This guide shows you how to cover the different sounds and letters – from the easiest and most common letters to the most difficult ones.
Supporting students who need extra help
Extra notes to help you navigate which parts in Fast Phonics can be used to support students who are having trouble decoding phonics.
Fast Phonics Components Overview
A breakdown of the parts, activities and skills, with an overview of the focus, phase, sound and strategy videos, plus high-frequency words, tricky words and decodable words taught in each Peak.
Fast Phonics Week by Week Teaching Overview
Designed to help you record and track what is taught each week.
Fast Phonics Supplementary Online Library Books
A list of all additional decodable books in the Fast Phonics Library, aligned to the different letters and sounds.
8. Training Videos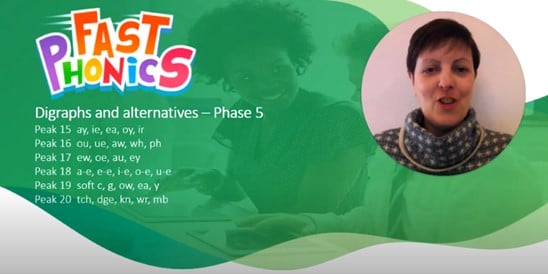 Quick short videos showing you how to teach phonics in a systematic manner, and how Fast Phonics can support your classroom phonics instruction. Topics range from segmenting sounds systematically, to pronunciation and assessment tools.
The Complete Systematic Synthetic Phonics Resource for Your School
Fast Phonics makes teaching systematic synthetic phonics fuss-free and easy. Filter lessons by phonics phases, focus sounds and words read, and quickly find the exact Fast Phonics lesson for your class.
With an extensive variety of phonics classroom resources at your fingertips, say goodbye to hours of research and lesson planning.
Remember, every Fast Phonics Peak comes with:
A sequenced weekly planner (part of the Weekly Teaching Guides)
Teaching slide deck
Actionable reporting data to check on progress and identify learning gaps
Flashcards and sound mats
Handwriting and phonics worksheets
Printable decodable readers/books
Additional resources:
Quick Links
Training videos on how to teach systematic synthetic phonics
Once your students have completed all the lessons in Fast Phonics, they can move on to Reading Eggspress, where a virtual library of 3,500 books awaits them. Reading Eggspress cultivates a love of reading through highly engaging reading comprehension lessons.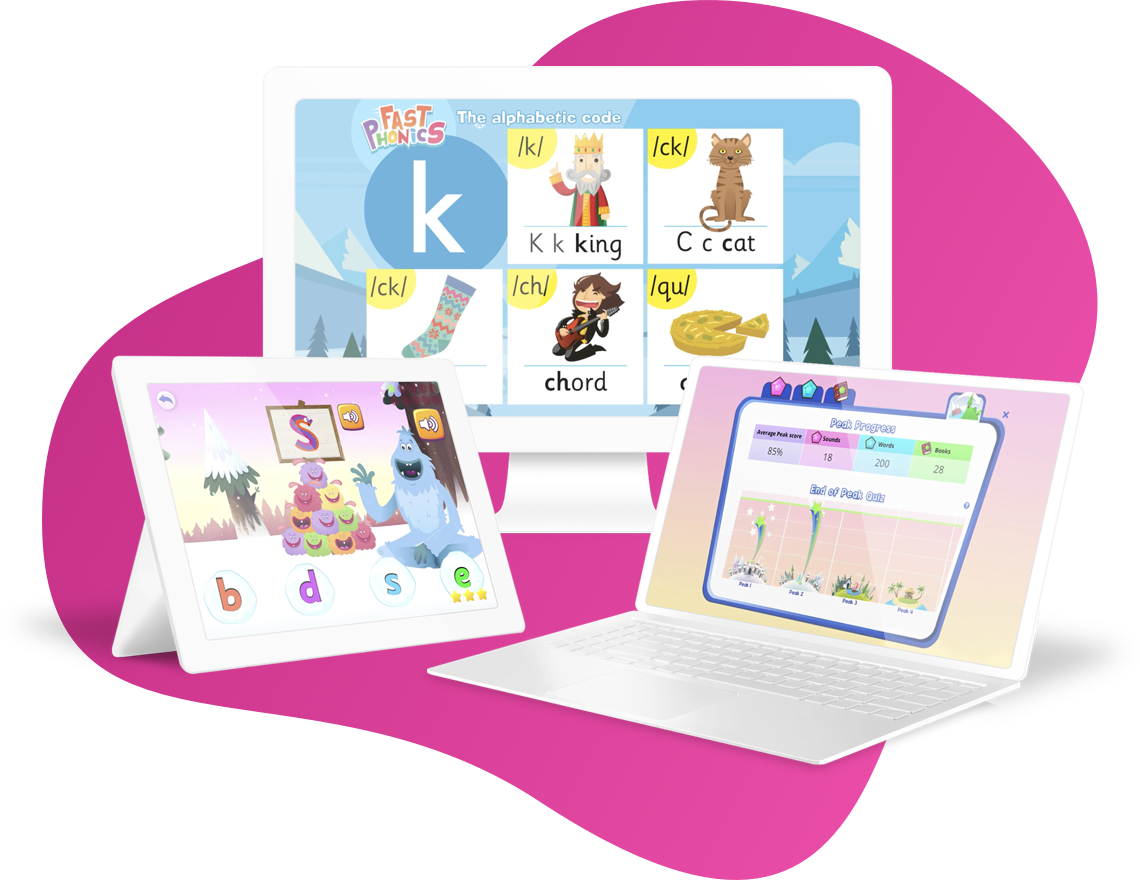 Kick-off your student's literacy journey with Fast Phonics