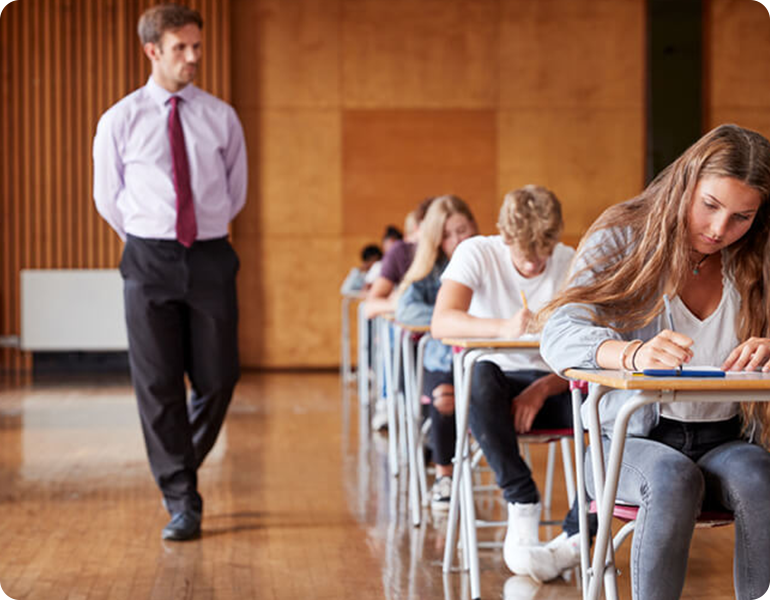 No one in a whole school environment is spared from the stress of testing seasons. Principals are thinking about placements, those of us at the head of the class are worrying about evaluations, and the students…well, they're getting the worst of it.
Studies have shown that anywhere between 35-70% of students deal with moderate to high levels of test anxiety (stats across the globe – AU | UK | US) and that it's rising in correlation with the amount of tests being taken.
Unfortunately, this is not limited to older students. Test anxiety is just as likely to affect primary school students and it's on the rise.
Before we dive into the depths of student test anxiety, we must understand what we are dealing with. While being nervous about 'big' events is a fact of life, test anxiety is more than slight trepidation or the desire to do (almost) anything else. It is a potentially crippling reaction, bordering on a phobia.
What is test anxiety?
Test anxiety is a form of social anxiety. In a nutshell, it is the excessive fear of being judged, rejected or negatively reviewed during a performance or social situation. This fear is transposed onto testing; both the act, and the conception and rumination of it.
The German Test Anxiety Inventory (or TAI-G) breaks it down into four subscales:
– Worry (thinking and rumination over performance)
– Emotionality (the physical and automatic reactions to stress)
– Confidence (how well students believe they'll perform), and
– Interference (the level of impact of thoughts during the testing performance)
What are the signs and symptoms of test anxiety?
There is a long list of symptoms to look out for, however it is important to remember that not all students will display the same symptoms.
Symptoms may include:
– difficulty or inability to think (blanking)
– racing heartbeat
– upset stomach
– sweating (palms etc)
– irritability
– depression
– muscle tension
– fidgeting
– nervous tics
– abusive self-deprecation
Basically, everything you would expect from anxiety, but at the worst time.
While stress in small amounts can be beneficial for memory capacity and test-taking, copious amounts of stress have the opposite effect, impairing thinking, causing interference, and burdening cognitive load.
There's only so much thinking and processing students' brains can handle.
What causes test anxiety?
For many students, it can be a combination of things. Poor study habits, poor past test performance, and an underlying anxiety problem can all contribute to test anxiety.
A few potential causes of test anxiety include:
– A history of poor testing outcomes. If you have done poorly on tests before, either because you didn't study well enough or because you were so anxious, you couldn't remember the answers, this can cause even more anxiety and a negative attitude every time you have to take another test.
– Being unprepared. If you didn't study or didn't study well enough, this can add to your feeling of anxiety.
– Being afraid of failure. If you connect your sense of self-worth to your test scores, the pressure you put on yourself can cause severe test anxiety.
In a study spanning four schools and classes, students were asked a variety of questions on what level of concerns they had for different statements:
Statement 1: I am very worried about what my teacher will think or do if I fail his or her test
34% never worried
40% almost never worried
21% almost always worried
5% always worried
Statement 2: I am worried that all my friends will get high scores and I will get low scores
31% never worried
49% almost never worried
13% almost always worried
7% always worried
Statement 3: I feel I just can't make it on tests
34% we never concerned
41% almost never concerned
19% almost always
6% were always concerned
Statement 4: I am worried that if I fail a test my parents will not like it
20% were never concerned
17% almost never
30% always
33% almost always
With 66% of students worrying about their parent's reaction, our mission to support students with test anxiety becomes a bit easier.
How to help your students with test anxiety
Help parents support their children
Parents will have memories of being a student and going through tests and exams – but they're not always equipped to give the best advice.
You can aid parents by:
– giving them ideas and ways to express positive and optimistic support
– adjusting their perspective on the stakes and consequences of the test
– showing them how their own educational anxiety can impact their children
Develop your students' study skills
Get your students familiar with the 'how' of study, like how to get organised, create study plans, use time efficiently, look for, understand and document key terms and definitions, and how to recall difficult concepts or facts.
Encourage health and wellbeing
Something else to consider bringing up with parents, but also something you can do in the classroom. Nutritious balanced diets, regular exercise, good sleep hygiene and taking care of physical health can help students better manage anxiety and stress.
You can also encourage optimistic or 'growth mindset' thinking, for example: 'I can do well if I study' or 'even though I haven't done well in the past, I can be better in the future'.
Give them the tools to think clearly
Two popular methods to help students manage their thinking are 'Rational restructuring' and 'Attentional training'.
– Rational restructuring deals with worry, getting students to reshape their irrational thinking (ruminating on things that haven't happened yet) to reduce the perception of tests being scary.
– Attentional training deals with interference, an explicit method to help students focus their energy on the tasks that matter as those tasks are happening.
A combination of both tools can help students manage their anxiety and stress before and during test time.