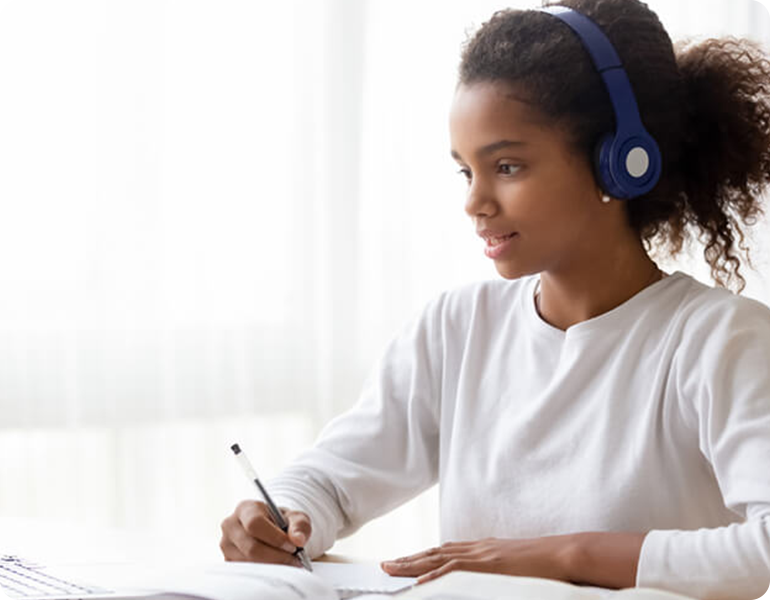 Setting up an optimal digital learning space is essential in any 21st-century classroom.
But it becomes even more vital when we're forced into distance teaching. Students need a platform that allows them to learn remotely, but without losing the interpersonal relationships that make classroom teaching so powerful.
With the benefits of the technology that we have available today, it isn't hard to keep the ball rolling — even in the event students are forced to learn from home.
Here's a step-by-step guide for creating a digital learning environment that ticks all the boxes.
Choose the platform(s) for your online classroom
Many schools operate with an internal learning management system (LMS) which provides access to students, teachers, and often parents. As an existing system already in place within the school, an LMS certainly has its benefits, but it's worth keeping in mind that they still require a bit of creative teacher design and implementation in order to accommodate a wide variety of online instructional strategies.
Apps and online learning programs are great tools for the job. They streamline the process of monitoring students from afar and are explicitly designed for student engagement. Using a scaffolded, curriculum aligned program also takes out a lot of the work that you would otherwise be doing in terms of preparing and uploading resources.
Alternatively, you might use a mix of different platforms. You could harness your school LMS to post self-created resources, but direct students to a program such as Readiwriter or Mathletics for homework and practice activities.
Make students familiar with the online classroom
Students will have a hard-enough time adjusting to distance teaching without also having to blunder around with unfamiliar software. Whatever platform(s) you choose, just ensure that students are familiar, confident and comfortable. In-class training sessions are an opportunity to learn and succeed together before students leave. If they've already left, you can try a webinar or live video. At the very least, provide them with an accessible resource that talks them through the basics and points them to help if they get stuck.
Special note – your IT department is invaluable! They will be able to talk students through basic troubleshooting for more technical issues.
It's also a good idea, particularly with the younger years, to give parents a basic overview of the learning system so that they too can help if their child has difficulty with it at home. Getting in touch with them via email is the obvious choice, but communication is even more seamless with Messenger, WhatsApp, or a Facebook group.
Create an online resource library
Please, PLEASE do not entrust your students with multiple weeks' worth of material in hard copy. It will go the way of every permission slip and disappear from the mortal realm within the first few days.
Upload everything that students will need in advance. This should include:
The teaching sequence, clearly outlined
The syllabus (even if students never open it, it's good for parents)
Handouts and instructional materials
Extension material
Practice material
Worksheets can also go here, although it's best if they can be filled out digitally – anything that requires printing is just going to make things that much harder. Even better, you could outsource worksheets and practice material to an online app or program such as the ones mentioned above.
The legends among us will have all this material prepped and ready for uploading in advance, while the rest of us mere mortals will have to put things up as we go.
Regardless of your approach, just ensure that you keep things in order. Students need to know exactly where to look for the material they need.
Create a space for online collaboration
You won't have any trouble setting independent work for students remotely, but group work presents a challenge. That said, while isolation is one of the dangers of distance education, learning from home doesn't have to come at the cost of collaborative activity. It might just be a little quieter than you would find in the classroom.
Most LMSs have a discussion board facility, and some may even have a chat function where students can talk in real time. These effectively allow you to bring all the benefits of group work and class discussion into a virtual space. Setting up a class OneNote or series of Google Docs can be simple and allow for real-time group work.
Monitor and manage students' online activity
No prizes for guessing what will happen if you turn students loose with a bunch of instructions.
Whatever platform you are using, you need to ensure that it has the capacity for:
students to submit work digitally
student data to be recorded
student activity to be logged.
The latter is critical. It's ideal if you can see what students have been doing: who has looked at a particular resource, who has completed set activities, and so on. This enables you to keep students accountable and clues you into those who might need intervention.
The best systems for digital learning will automate this procedure so that it's easy to stay on top of your students' online activity.
Create an online help desk
Students need to know how and when to contact you if they need help, be it technical or content based. You can try:
Email: an easy option that doesn't take much set-up, although you might end up answering the same questions over and over.
Discussion board: this could operate like an online tech-support forum, with the benefit of only having to answer each query once. Students might be hesitant to ask questions about the class content in this shared space, but it works well for technical issues.
Chat: some LMSs have an inbuilt live chat function, which is perfect for real-time student/teacher interaction. If this isn't an option, you could use an app such as WhatsApp — but just make sure you are clear on any regulations that apply to student/teacher contact on non-school media.
In any case, it's best to set clear office hours in order to avoid being bombarded by students (and their parents) with queries and concerns at all times of the day and night. Given that parental anxiety is likely to be high, they will be hungry for your scarce time.
Need help setting up a digital learning environment?
We've got you covered. Discover our range of distance teaching solutions covering mathematics, literacy and science below: