Are you scrambling to cater to faces on screens and in classrooms simultaneously?
This might optimistically have been termed 'hybrid teaching', but let's be honest — there are no best practice frameworks for teaching 20 to 30 students remotely and in-person at the same time.
But while we might not know the answers, we do know what needs to be prioritised while we do our best to keep classrooms running.
Here's a checklist of priorities for hybrid teachers, plus realistic tips for driving the progress of your early learners (and keeping them happy too).
Stay connected as a class
Without the relationships that make your class so special, students are much more likely to disengage or feel the isolation distance learning can sometimes bring. This can take a toll on academic progress in addition to affecting wellbeing.
That's why it's so important to stay connected as a class. You could do this by:
giving students at home regular face time with their peers in class. Get their faces up on the big screen and have a brief news or sharing session at the start of each lesson
using opportunities to make the hybrid learning experience a personal one. Celebrate birthdays virtually, share weekend stories, or have a 'bring your pet to virtual class' day.
uploading a daily 'welcome to class' video for students at home. It only needs to be brief, but just seeing you and hearing your voice will make a difference.
These strategies are effective in giving students some social face time at the beginning of a lesson, but what about the rest?
Relationships will be strengthened even further when you connect students via learning activities too.
An online learning program that allows students to learn alongside their peers — no matter their physical location — can do this for you.
Let's take our K–10 mathematics program, Mathletics, as an example. Any student with a device and internet connection can use it to:
connect with a classmate for a live mathematics challenge, where they race the clock to get as many answers correct as possible.
set personal bests and high scores on the class leaderboard. Schedule a time each week to celebrate these achievements as a class.
achieve printable certificates, which are awarded automatically once students reach a set number of points. You can present these in a virtual/in-class 'award ceremony' (consider inviting parents too).
The result? Your students will understand they're all on the learning journey together. They'll motivate each other to keep learning despite the disruptions and never lose touch with you — the teacher who makes it all happen.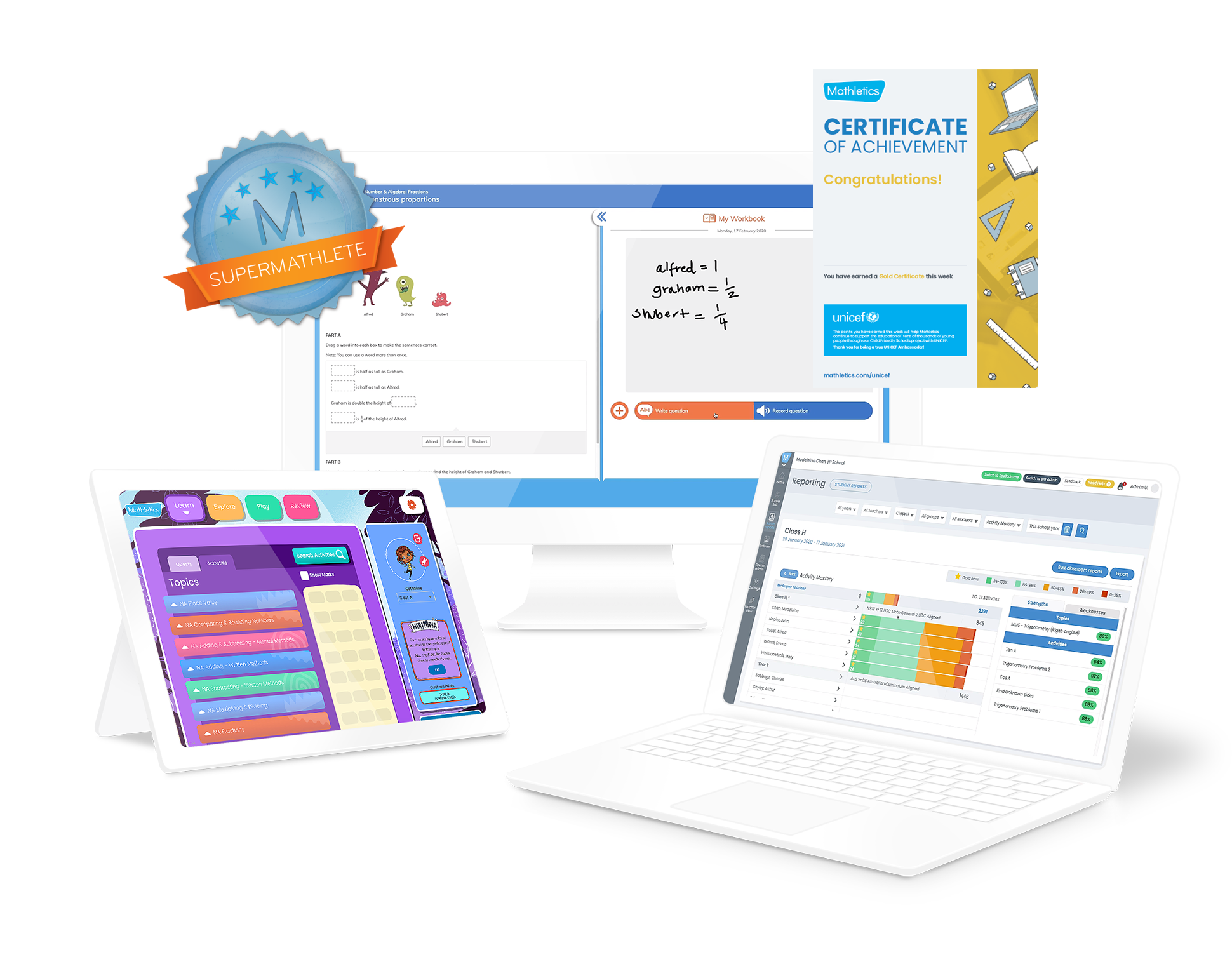 Tick all your hybrid learning goals with Mathletics
Bring parents on board
With learning periodically taking place at home, parents have an important role to play in ensuring your students remain motivated and on-track even when you aren't there.
For this to happen, however, parents need to be actively engaged with the hybrid learning process. Here are some initiatives you can take to this effect:
Share schedules for class attendance, so parents know ahead of time when/if their children get to join the class cohort.
Give parents tips on activities that they can do at home to support learning (try sending out a list of at-home mathematics activities or writing prompts).
Check-in with the parents of any student who has repeated absences online or in class.
Bear in mind though that there's a limit to what parents can do. Many don't have the time or confidence to fully oversee their child's learning, so they'll need direct support.
There is a way to offer this without spending hours each day answering parent emails. Here's the process:
Give parents the login details of any online learning programs your students are using, so they can stay abreast of their child's learning. In our mathematics and literacy programs, you can auto-generate a list of all student logins in the teacher dashboard.
Explain to parents how the program works. For example, in our programs, students automatically progress through curriculum-aligned lessons at their own pace without parents having to manage the process.
Show parents how they can use the program to view their child's progress. In Reading Eggs, for example, parents can check their child's progress at any time using the family dashboard.
It's an easy way to involve parents in home learning without the pressure of 'teaching', and one that can continue even after your students return to a regular classroom. With learning support across both school and home, they'll progress faster than ever.
Keep up with the curriculum (as much as possible)
It's difficult to get through a packed curriculum at the best of times, let alone when your students are constantly rotating in and out of class. If you're finding it difficult to keep up, consider the following strategies:
Prioritise sequential learning. Focus on the key understandings that are needed in the coming months or next year above all else.
Scale back assessments so you have more time for instruction. If it's not possible to cut a few, find assessments you can shorten or condense (eg, could a lesson-length test be transformed into an at home activity?)
Map an adjusted program with colleagues, including designated periods of 'curriculum catch up'. With all teachers on the same page, you can do more to ensure students emerge from this period without too much learning loss.
All the above will help you to generate a 'remote-curriculum' that covers the most essential learning outcomes, but you'll cover even more if students have access to curriculum-aligned learning at home.
This is another area where online learning programs come in handy. Choose one that comprehensively covers your local curriculum and your students will be able to keep progressing as normal, even when they're learning from home!
In our mathematics and literacy programs, this is as simple as:
choosing the appropriate local/year level curriculum from a drop-down menu.
letting students work through curriculum-aligned lessons and activities that progress according to their individual levels of ability. Students can do this at home or in class — anywhere they have device access.
You also have the option of assigning extra work as you see fit, either to the whole class or individuals. Either way, you won't have to push students very hard to keep up with the learning as  all of our programs are designed for maximum fun!
Get free printable resources for in-class and at-home learning
Track student progress
Who completed the homework? Who needs help?
Who needs a check-in and a few words of motivation?
It's easy to lose track of these things when teaching under such unpredictable circumstances. That's why hybrid learning comes with the risk of students slipping between the cracks — especially if their home circumstances aren't well suited to learning.
Reduce the risk by:
conducting a quick formative assessment at the end of each lesson to see what's been understood. This could be as simple as having students hold up an emoji or symbol onscreen signifying their understanding of a topic.
checking-in with the parents of students who are frequently absent.
logging results or observations so you can get a clearer sense of progress patterns —especially for students who are regularly learning from home.
If you want access to live and automatically updated student results, check the teacher console in an online learning program.
For example, the reporting function of Reading Eggs allows you to see how many activities each student has attempted, and the points they've achieved by answering questions correctly.
Under the 'growth' tab you can also find targeted insights into a student's individual spelling progress.
Even if you can't observe students in person, you'll never be at a loss as to who needs help, and who deserves a congratulatory email home.
Look after your own wellbeing
At a time when it feels as if you can never do enough, it's easy to get burnt out. But student learning can only take place if you take care of yourself at the same time.
Here's where an online learning program can benefit you as well as your students. Choose the right one and you'll save the time and energy you need to make hybrid teaching sustainable.
For example, each one of our programs gives you:
automated marking. Every question and activity completed by a student is marked by us, with the results delivered straight to you in real time.
a constant source of curriculum-aligned activities students can do at home, so you don't have to create multiple weeks' worth of homework at a time.
a library of printable resources you can give to students who don't have reliable device access at home. No need to create extra printables from scratch.
Interested? Get 30 days free access to any of our programs via the link below.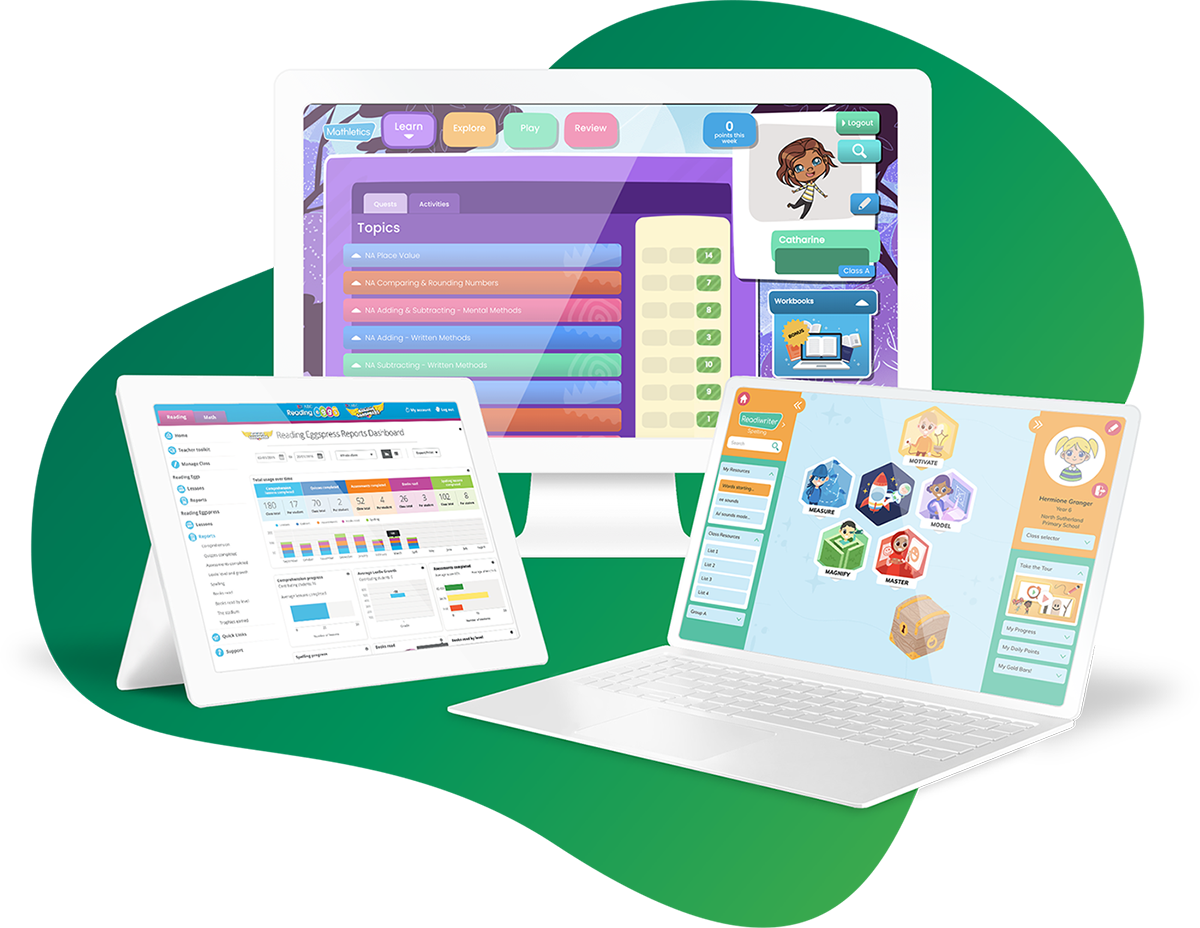 Deliver powerful learning lessons at home and in class