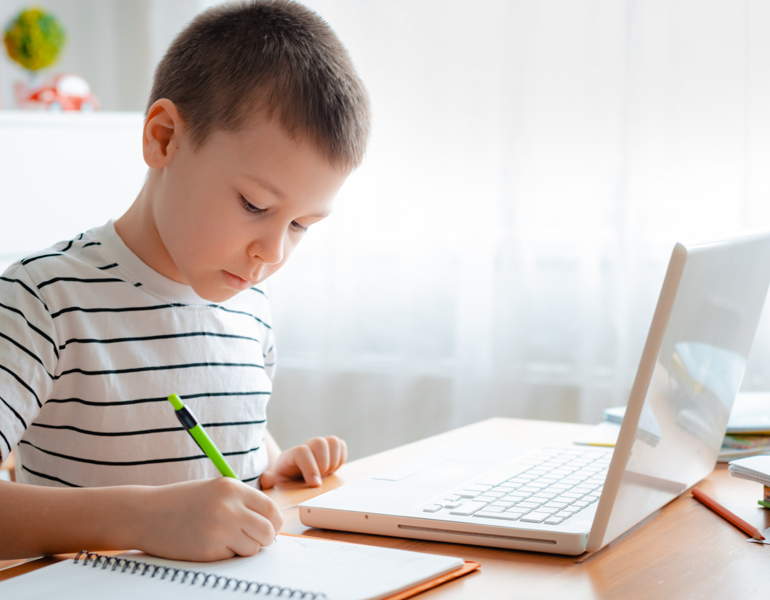 Staring at a screen all day, and sitting in the same spot for hours… Remote learning isn't exactly the interactive classroom your students are used to, and it can be tough for students and teachers to adapt to, particularly when it comes to student engagement.
Many teachers have taken to Facebook communities and Reddit to share their remote learning hacks. One of the popular tips from teachers is to run short lessons, broken up by fun activities that help get kids laughing, moving and most importantly, giving them a break from the screen.
Need some ideas for some engaging activities that don't rely heavily on a screen? Read on for our top 10 brain break activities for remote learning.
For Something
a Little Active…
Scavenger Hunt
This activity can be as simple as giving students 2 minutes to find an item that starts with the letter 'T' in their house, or something that is soft.
To add an extra challenge, you could give them a list of things to do within a day or week and have them tick off their items as they go.
For example, you might ask them to:
Take a picture of the view outside their window
Find something blue
Spend 30-minutes on Mathletics, Reading Eggs or Mathseeds
Read one book
Find something that starts with the first letter of their name
Write a note to their parents about 3 things they've learnt this week
Find something round
5,4,3,2,1
To play 5,4,3,2,1, simply choose 5 different movements for your class to do. Then, call out the 5 movements to your class and ask them to do them all in descending order.
For example:
5 Star Jumps!
4 Toe Touches!
3 High Knees!
2 Squats!
1 Push Up!
To add a challenge, yell out maths sums they can use to identify how many of each movement they are required to complete.
For example:
4 + 2 Star Jumps!
6 + 6 Toe Touches!
8 + 1 High Knees!
2 + 3 Squats!
And so on…
For Something
a Little Zen…
Yoga
Yoga encourages mindfulness and helps strengthen students' physical, emotional, and cognitive development. Not to mention the physical benefits such as increased muscular strength and endurance, improved sleep quality, and increased body awareness and coordination.
Try one of these kid-friendly yoga classes to break up the day:
Take a Pause
This one is simple… or is it? Ask your students to do absolutely nothing for 2 minutes. Sitting still and quietly will help your students boost their creativity and problem-solving, put them in tune with their thoughts and feelings, allow their brains to rest and restore, reduce stress and allow their body to rest!
Try this every day and see how your students become more comfortable being with their own thoughts. You may also like to have a conversation afterwards about where their minds took them!
Affirmations
Positive affirmations are all about helping your students learn how to encourage and motivate themselves. Affirmations build confidence and promote self-love. Here are a few affirmation activities you could try remotely…
Firstly, have students fill in the blanks on a piece of paper, for example:
When they've completed this, create a digital affirmation circle where students read out their affirmations in turn, or to add a twist, put on some music and have them sing their affirmations to the tune!
Or for something creative, have your students put together a positive affirmations collage. They could do this digitally by finding images on the internet, or they could use magazines, books and newspapers found around the house or classroom.
You might also like to download our free Positive Behaviour pack here which includes some fun affirmation badges including "I am Confident", "I am Resilient", "I am Adaptable" and more!
For Something
a Little Fun…
Have a Dance Party
Choose a fun song, turn it up loud and hit the remote learning dance floor. You might like to let your students freestyle, or take it up a notch and have each student shout out and demonstrate a new dance move for their classmates to follow.
Need some dance move suggestions? Try the twist, the running man, the robot, vogueing, the sprinkler, the moonwalk, steps side-to-side, flossing, disco arms, Gangnam style… Okay we'll stop now!
Or follow along to this dance moves for kids video.
Play Charades
If you're playing over video, ask one student to act out a vocabulary word and the others can put their guesses in the chat box! Don't forget to set a timer to keep up the intensity!
If you don't have any vocabulary words on hand, try these kids' charade cards:

For Something
a Little Educational…
Listen to an Incredible Podcast
A welcome break from screen time, these kid friendly podcasts are full of interesting facts and fun for students AND their parents. Some of our favourites are…
That's Incredible! – This podcast for kids (and parents!) is packed with incredible facts and amazing stories about everything from the human body, sport, music, science, technology and space. Hosted by Andrew Daddo, this podcast drops weekly with a new adventure!
Book Club For Kids – Let's talk about books baby! Another weekly drop, this podcast is hosted by Kitty Felde who conducts a child friendly book club where she is joined by the author and a bunch of celebrities as guest readers!
But Why – But Why tackles topics large and small, about nature, words, even the end of the world. But how do they choose the topics? From submissions and questions from kids!
Stories Podcast – Stories Podcast covers a new story every week, drawing from a variety of sources and a variety of styles. There are retellings of classics like Snow White, some folktales, and myths from around the world, as well as original stories.
Fierce Girls – One for the slightly older students, this podcast tells the inspiring tales of some of Australia's most extraordinary women.
Tune into #EducationLive
Connect your students with sporting heroes, education superstars and animal experts every Tuesday at 10am AEST by having them tune into Education Live – here. These daily livestreams are created for NSW Public Schools, but can be accessed by anyone. From ABC's Dr Karl, AFL clubs the Swans and the Giants, Taronga Zoo and Maths guru Eddie Woo get your students onto these daily livestreams here.
Have a Thought-Provoking Conversation
Stay connected with your students by chatting about all sorts of educational (and not-so-educational) topics! Many teachers are finding that a casual chat can be a good way to break the virtual ice at the start of a day before sending through a pre-recorded video with instructions for tasks or work for students to complete.
Check out these 20 fun, light-hearted, silly, and thought-provoking questions to ask your students as a class. Use them to kick off the day or as a break for when you need to gather your class together and take the pressure off, unwind a little and connect.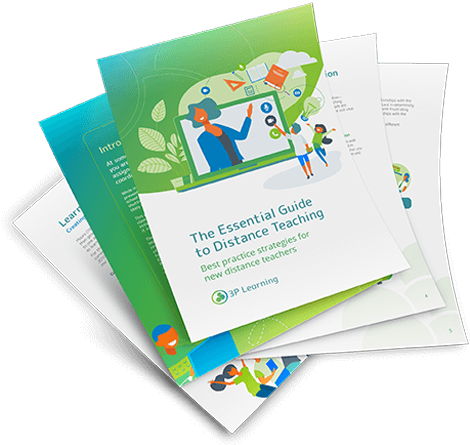 Looking for more remote learning resources?